Some nice family hiking and biking trails
As a family, we sometimes go for hikes on weekends. My parents have always enjoyed it, and even now (mid to late 60s), still go out for 3KM+ hikes. The kids love it as well, so when time permits, we try to find a few nice hiking spots and trails that are fun.
The kids also enjoy riding their bikes, so some of the trails offer both hiking and moutain bike tracks as well. I've listed a few of them below, kinda in order of coolness, that are close enough from the Sandton, Joburg area (except for Magaliesberg).
In general, some of the best mountain hiking trails can be found along these two mountain ranges:
Magaliesberg mountain range: The Magaliesberg are among the oldest mountains in the world, almost 100 times older than Everest. They stretch for 120km from Bronkhorstspruit Dam east of Pretoria to Rustenburg in the west and separate the highveld grasslands to the south from the bushveld savannah in the north. Also includes the Hartebeesport Dam and all the interesting spots around there.

Drakensberg Mountain range: The highest mountain range in Southern Africa, with peaks that rise to 3,482 metres in height, the Drakensberg mountain range is an area of spectacular natural beauty. The mountains themselves span approximately 1,000 kilometres from southwest to northeast and meets Lesotho at its northeastern border. Its about 4 hours from Joburg, on the way to Durban. I refer many foreign visitors specifically to the central berg area, which includes very interesting spots like the Falcon Birds of Prey show

Also check out the hiking, MTB trails, and parks on offer in Joburg itself. Our favorites are the botanical gardens in Rooderpoort and Emmerentia, and the MTB bike park in Fourways
Before we go into listing all the trails, here are some basic hiking tips for the noobs:
A comfortable day backpack, strong shoes, and a hat are essential to any hike
Light snacks and sun block.
Carry 1L of water / person for every 2 hours of hiking
Choose the right trail for your fitness level
Hiking and MTB Trails
Rustig
Located in Magaliesberg area, about 45 mins from Joburg/Pretoria, Rustig is a venue that offers accomodation, functions, and hiking. There are a few trails, ranging from 3KM to 13KM, and overnight hikes as well.
We did the 5KM Witstinkhout Hiking Trail, that took about 4 hours with the kids (7 and 10 years). It starts off in a dense forest area, and slowly goes up hill towards the top of the mountain, part of the Magaliesberg mountain range. You eventually walking against the sheer face of the mountain, with a steep incline.
Hennops Hiking Trails
A venue offering hiking and MTB trails along the Hennops river, its actually still in pretoria, on your way towards the Magaliesburg and Hartebeesport areas. It also offers a few trails, ranging from 2.5KM to 10KM, you cross over the river using rope bridges and cable carts. Its a more open area, not very dense bush, and moderately inclined.
We did this hike on one afternoon, and drove straight through to Rustig for a hike the next day: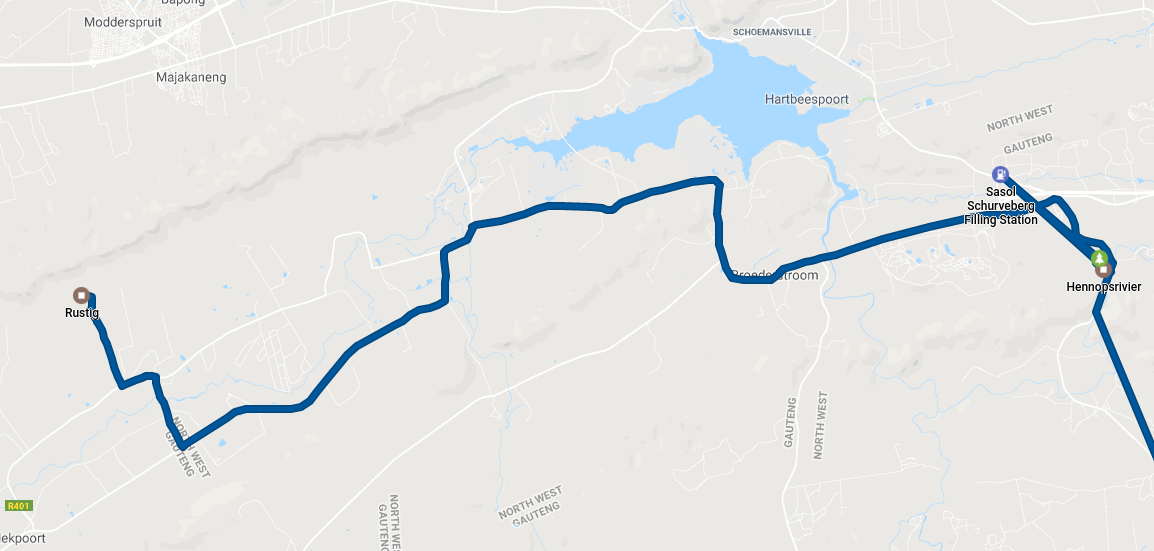 Drakensburg
There are a number of hiking trails in the central berg area, offering a range of hikes through dense forests, climbing up moutains, and crossing pure streams. Very beautiful!
Mountain Sanctuary
Also in the Magaliesberg area, this venue offers a very different hiking experince, because unlike all the other hiking trails listed here, Mountain Sanctuary's hiking trails is not a marked out trail - you kinda wander around the area, and choose how you go about it.
Its a very rocky and dry area, that includes a gorge wherein a natural spring runs, down the rocks, with a kinda swimming area at the bottom.
Our experience was that we kinda may have got lost in trying to find the gorge, ran out of water in the heat, and started to panic. We eventually worked our way along the gorge, and got back to the well known path. It might have only been a 5KM walk, but due to the rocky terrain and heat, it took us over 5 hours.
I've included our adventure mapped out:
Big Red Barn
Offering MTB and hiking trails, with a restuarant, its a nice venue for a Sunday afternoon stroll. Just 20 mins from Sandton, we take along a picnic bag for a few hours of walking, while the kids ride along next to us.
Rietfontein nature reserve
Right next to Sunninghill, along the N1 highway, this little place is a hidden jewel. It has quite a bit of wildlife that you see on a 2.5KM walk. Perfect for a Sunday afternoon.
Suikerbosrand Nature Reserve
We have not been here yet, but its next on the list. Suikerbos is 40 mins from Sandton, offering hiking and MTB trails, with a range of wildlife to be seen.
Rietvlie nature reserve
Only 30 mins from Sandton, we have been here many times for game drives on a Sunday afternoon, but have not yet taken on the hiking trails. It lists a 10KM day hike and 21KM overnight hike, that looks really awesome.